Bring Joyce Gioia in for a Business Travel Presentation that Will Help Your Employees
Enjoy Travel Again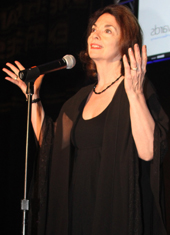 USA TODAY's First Road Warrior of the Year, Joyce Gioia, is available for speaking and training presentations to groups who could benefit from expert business travel insights.>
A strategic business futurist and president of The Herman Group, Joyce frequently serves clients on six continents and in 46 states. As such, she has been a member of USA TODAY's Road Warrior panel since 2006, sharing her thoughts and experiences on travel issues, trends and other topics related to frequent travelers
Business Travel Presentations for
Road Warriors
Every presentation Joyce delivers is personalized to specifically address the audience, client objectives, and desired outcomes. The end result is always an experience that is guaranteed to be exactly on target.
Popular Topics
Travel with Less Stress and More Fun
Save Time and Money During Your Business Travel
Use Technology to Stay Connected with Loved Ones
Testimonials
You did a great presentation for us (at the Laboratory Products Association)! I am sure that the insight that you provided will help to drive our business to new heights.

– Karen Brooks
Division Vice President
Qorpak
Laboratory Container Specialists
Congratulations, Joyce, you were our top-rated speaker. Thanks for a great job!

– Gene Griffiths
Executive Director
International Marking and Identification Association
You did a fabulous job. In fact, 100% of survey respondents said you where "Excellent" or "Good".

– Kevin Marasco
Vice President, Marketing
Recruitmax Software
On behalf of the Board of Directors of the Employment Practices Network, I would like to express our appreciation to you for a very informative program… I have received numerous emails from attendees with very positive feedback about your program, including the subject matter as well as your dynamic presentation style. Several of our members commented that the data included in your presentation was very beneficial to specific initiatives currently ongoing in their organizations. It was a great pleasure to meet you…

– Deborah Hays
Vice President
Missouri Gas Energy
I would like to extend our gratitude for the wonderful keynote presentation you delivered at our annual conference. Your presentation was very well received. The reviews from the participants were very positive and they felt they walked away with some excellent knowledge. Thank you for your professional presentation and your willingness to support our human resource profession.

– Colin Adams
Vice President Education
Buffalo Niagara Human Resource Association
Your success as a keynoter was evident by the standing-room-only crowd for your breakout session on "How to Become an Employer of Choice." Your expertise and insights were valuable to our conference attendees and your sincerity and concern for their professional success was evident throughout your presentations. We were impressed by the high level of audience engagement in both presentations. What a difference YOUR style makes from a typical information dump program, where a presenter simply narrates. . . It was a distinct pleasure to work with you. You definitely MADE A DIFFERENCE for us, Joyce!

– Deneen A. Costa, SPHR.
Director
Illinois State Council of SHRM
Our business and industry clients had nothing but rave reviews following your afternoon session. I believe "Capitalizing on the Impending Crisis" is vital to each of our clients' future business success. The information you delivered to our instructional staff and business and industry division could not have been more on target. You did a tremendous job! The meetings were a huge success!

– Andrea Kelly, Ed.D.
Superintendent/CEO
Meridian Technology Center
Both of your presentations were terrific, and I know you provided each group with plenty of thought-starters for the future. I do hope we'll have the opportunity to work together again in the future.

– Chris Neff
Director of Integrated Marketing
NIC
Sensational work!

– Robyn and the Convention Team
NSANZ Conventio
National Speakers Association New Zealand
Your inspiring presentation was the high point of the conference for both Partners and Gold Mine employees.

– Jennifer Bamber-Repcik
Worldwide Channel Communications Manager
GoldMine Division, FrontRange Solutions, Inc.
Thank you for your stimulating and thought-provoking presentation at the Southern Virginia Community Forum. I received many very positive comments about your presentation. Your message set the stage perfectly for the other speakers. I hope we will be able to work closely over the next months at RCATT is established as a leader in progressive education for business.

– James R. Johnson
Executive Director
Regional Center for Applied Technology & Training
Danville, Virginia
Thank-you for providing a world-class learning experience for the Internal Revenue Service. I hope you enjoyed the experience as much as I enjoyed listening to your presentation.

– Eric Rabinowitz
President
IHS Helpdesk Service
www.ihshelpdesk.com
Our planning committee was unanimous in their appreciation of your presentation and consultations at our recent workforce summit in Lynchburg. On 88% of the evaluations forms received, you were rated a 4 and above on a a 1-5 scale. Your information was timely and very well represented. We appreciate your cooperative attitude and the professional manner in which you participated in the whole process.

– Stanley I. Goldsmith
Virginia's Region 2000
Your presentation was not only informative, but entertaining as well. We all learned a lot and thoroughly enjoyed the process. . . .Everyone was impressed by the high degree to which you customized your talk to our interests and concerns. . .Thanks for making me a hero!

– Ronald C. Schwertner, CCE
Corporate Credit Manager
Guilford Mills
The session evaluations were very positive. . . the comments included statements such as "dynamic and personable," to which I concur, and terms like "excellent speaker, presentation and very inspirational." I know the Program Committee will be pleased with the outcome. . . .I appreciated all of your hard work and willingness to tailor your presentation to the needs and concerns of our home care providers.

– Frances K. Reh
Director, Programs and Public Relations
Pennsylvania Association of Home Health Agencies
Based on the results of our surveys for the referenced meetings, it is a certainty that Ms. Gioia and Mr. Herman have received "rave reviews." Having heard both (on several different categories) our organization feels confident in recommending them highly as speakers who are not only knowledgeable about their subject matter, but project it in such a manner that it is interesting and "fun."

– Tricia Meyer
Executive Director
Indiana Mortgage Bankers Association
Your seminars were awarded with high acclaim. "She's great," was the unanimous reaction to your seminar on Marketing Wizardry. Attendees found your tips on planning strategies extremely valuable and they were pleased with your presentation style. "Her delivery was excellent," said one attendee, "thanks!" . . . Your ability to lead and motivate discussion allowed for "a great exchange of views" and "good networking."

– Linda Fahmie
President
National & Print Marketing Buyers Show
Thank you again for a great job! Our client said you were great!

– Charise M. Sheng
Rocky Mountain Speakers Bureau
Partial List of Joyce's Clients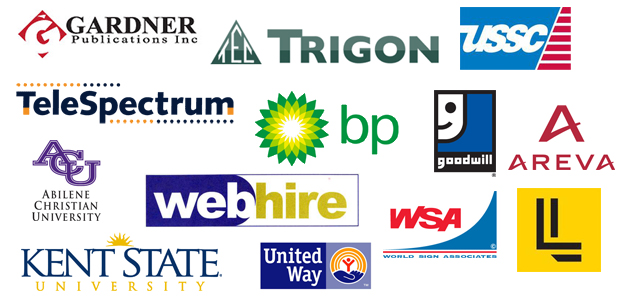 Abilene Christian University
Academic College Testing
Adecco Staffing Services
Advanced Software Applications
American Association of Healthcare Consultants
American Bus Association
American Heart Association
American Honda Motor Corp.*
American Society for Quality, Charlotte Section
American Marketing Association
American Society for Training & Development
Architectural Woodwork Institute
AREVA
Arizona Mail Order
Aspen Education Group
Association of Independent Trust Companies
Association of Professional Office Managers
Atlantic City Pool & Spa Show*
BP Amoco
Barton Protective Services
Bellcore
Bernard Hodes Group
Bill Black Automotive
Bleech CEO Conference
Boddie Noell Enterprises*
California Association of Community Managers
Carnrick Laboratories
Carolinas Society for Healthcare Strategy & Market Development
Caterpillar University
Cayuga County Chamber of Commerce
Center for Creative Leadership
Central Illinois Human Resource Association
Workforce 2006 (Jacksonville, FL)
Coastal Organization of HR Professionals
Cohen & Company Accountants
Consulting Coaches Conference
Contact Lens Society of America
Council on Adult & Experiential Education (CAEL)
Council on State Governments
CUNA Mutual Companies
Earth Observation Satellite Corp.
Edutainment, S.A.
Employee Relocation Council
Employee Services Management Association
Employment Practices Network (EPN)
Ericsson Corporation
F & D Reports
Faxton-St. Luke's Healthcare
Federal Emergency Management Association (FEMA)
Follett Higher Education
Ford Motor Company
Front Range Software
Gibraltar Customer Conference
Gardner Publications
GKN
Goodwill Industries
Granite State Human Resources Conference
Great Game of Business
Greater Niagara Society for Human Resource Management Annual Conference
Greensboro Merchants Association
Hall Ambulance Service*
Harrisburg Hilton Hotel
Hawaii Consulting Engineers Council
Haymarket Group Ltd.
Hoosier Hospitality Conference
Human Resources Association of Central Utah
Peoria Human Resources Summit
IHS Help Desk Service*
Illinois Society for Human Resource Management State Conference
Indiana Mortgage Bankers Association
Institute of Management Consultants
Internal Revenue Service
International Marking and Identification Association
International Sleep Products Association
Junior Achievement (national organization)
Junior Achievement of Central North Carolina
Juvenile Diabetes Research Foundation
Kaanapali Beach Hotel
Kansas City Society of Association Executives
Kent State University
Landor Associates
Littler Mendelson
Loyola College, MBA Program*
Lucent Technologies
M. Lee Smith Publishers*
Marriott's Camelback Inn and Resort
Meeting Professionals International, Carolinas Dream Team
Memorial University
MetLife
Metrolina Relocation Council
Metro Phoenix Human Resource Society
MGM Transport
Mid-America Spa & Pool Institute*
NAPM, Triad Chapter
NCI Works!
National GEM (Graduate Education for Minorities)
National Personnel Associates (NPA)
Meridian Technology Center*
Minnesota Telephone Association
Mt. Baker Society for Human Resource Management Regional Conference
National Association of Die Cutters and Die Makers
National Association of Purchasing Managers
Nevada Motor Freight Association
Newark Airport Hilton*
New Jersey and Greensboro Hotel/Motel Associations
Newell Company
New Orleans Marriott Hotel
North Carolina Association of Non-Profit Homes for the Aging
North Carolina Association of County Directors of Social Services
North Carolina Quality Conference
Northeast Spa & Pool Institute*
Northwest Human Resources Council (Illinois)
Novant Healthcare
Ohio Mortgage Bankers Association
Oklahoma Society for Human Resource Management*
Oklahoma Department of Career and Technology Education
Opus Publishing
Painted Plate Caterers
Paul Taylor Relocation Conference
Pennsylvania Home Health Association
Pennsylvania Landscape & Nursery Association
Personal and Professional Coaches Association
Phoenix Human Resources Association
Piedmont Credit Club*
Piedmont Entrepreneur's Network
Polaris International North America
Princeville Sheraton Hotel in Kauai
Proctor and Gamble Latin America
Public Relations Council of Alabama
Quail Hollow Resort*
Quality Bakers of America
Recruitmax Software*
Region 2000 Workforce Summit
Regional Center for Applied Technical Training
Regional Consortium for Technical Information Executives
Rural Manufacturing Association
Riemer Reporting
Rochester Human Resources Day
Sally Beauty Company
Serologicals
Social Security Administration
Society for Human Resource Management, Greensboro Chapter
South Dakota Credit Union League
Southside Virginia Community Forum
Southwest Human Resources Conference
St. Louis Regional Commerce & Growth Association
Illinois Workforce Conference
Suburban Newspapers of America
TDC Integris*, San Paulo, Brazil
Telespectrum
TempNET
Thaddeus Stevens College
The Executive Committee
Triangle United Way
Trigon Engineering
Uni-Mail List Corp.*
University at Buffalo
U.S. Department of Defense
U.S. Government Office of Personnel Management
U.S. Government Printing Office
United States Sign Council
Utah State University Partners in Business
Volunteer Center of Greensboro
Warren Federal Credit Union
Webhire*
Wellness Council of North Carolina
Western Virginia Workforce Development
Winston Salem Society for Human Resource Management
Wisconsin Governor's Conference on Tourism
World Sign Associates
(*Asterisks indicate repeat clients)
Interested in Hiring Joyce?
Already Hired Joyce?
Bring Joyce Gioia in for a business travel presentation that will help your employees enjoy travel again! Contact us directly at (336) 210-3548.